About: PSICAN - Paranormal Studies and Investigations Canada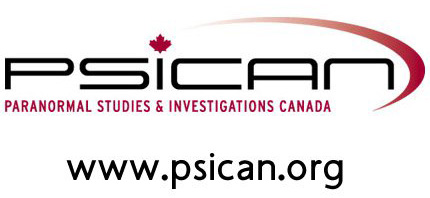 PSICAN - Paranormal Studies and Investigations Canada is "a Canadian organization dedicated to the research, study and exploration of a diverse range of topics considered to be paranormal."
According to the History page of their website "PSICAN was created in March 2005 as a places for serious paranormal investigators and researchers to communicate and work together that all follow some basic principals in their efforts...
#1: The security, safety, and comfort of witnesses (those who experience unknown phenomena,) will be a primary concern.
#2: A neutral, or an "agnostic" approach in investigation and research on "paranormal" topics is vital in order to find better evidence pertaining to (or even just better questions about) perceived paranormal events.
#3: The main thrust of these groups is investigation and research into their chosen studies... not media fame, thrill seeking, or pursuits of a like type.
#4: We try to help each other in our work as colleagues, not in competitive terms or with a view to convert people to a belief of viewpoint."
They have a stories on Ghosts & Hauntings, UFO's (Unidentified Flying Objects), Cryptids and Psychical Phenomena.
How do I become part of the PSICAN team?
To be a part of PSICAN as a member, you must do three things...
#1: There is an examination (online) involved. You must pass this exam.
#2: You must produce two (2) articles for the website that are approved of by existing PSICAN members.
#3: You must read, understand, and be willing to work within the guidelines laid out in our Rules of Governance and Code of Presentation.
THERE ARE NO CHARGES FOR BECOMING A MEMBER OF PSICAN... we just need to see your ability to work with us.
The team at ParaNorthern.ca highly recommend you check out the PSICAN website if you're interested in pursuin paranormal investigations.